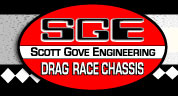 NHRA and IHRA Certified Chassis, Cars, and Components
ASE Certified Master Technician

Race Car Components Catalog

We will be expanding this catalog in the future and possibly adding an on-line order form for components. We will also be adding downloadable worksheets for your convenience in collecting the measurements we need to provide estimates and build components to your specs. Listed below are just a few of our items and services offered. Please contact us if you require a component that is not on this list.

Chassis and Suspension Systems

Race Car Chassis
Custom-built, full body, tube chassis.
Roll Bars and Roll Cages
Custom-bent 8-point roll bars and all types of roll cages fabricated from chromoly or mild steel tubing.
Anti-Roll Systems / Rear Sway-Bars -

Custom-built for your car.

Ladder Bar or Four Link Rear Frame Sections
Round tube and box tube.
Front and Mid Motor Plates -

Custom-built.

Coil-Over Shocks, Struts, and Springs
All major brands and mounting systems.
Wheelie Bars


Several styles available, constructed to your application.

Track Location Systems
Panhard Bars, Diagonal Link, and Wishbone.

Engines, Transmissions, and Drivelines

Engines -

Specialists in high-revving, small block comp eliminator style engines. Also call us for your Mopar Performance engine needs.

Transmissions & Clutches -

We have the expertise to service all types of manual drag race transmissions. SGE's owner, Scott Gove, is known for being a manual transmission, stick shift racer. (SGE is a McLeod clutch dealer.)

Rear Axle Housings and Differentials -

Sheet metal rear axle housings custom-built. Stock type rear axles custom narrowed.
Some of the hardest hooking cars in New England use our components and technology!