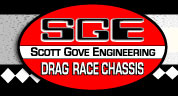 NHRA and IHRA Certified Chassis, Cars, and Components
Custom Race Car Fabrication
Specializing in Top Sportsman, Super Class, Bracket Race, Stock, and Superstock.
Dragster / Altered repairs are welcome.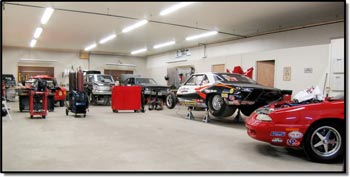 Scott Gove Engineering's racecar fabrication shop.
Drag race chassis.


Custom built, full body, tube chassis.

Complete turn-key cars.
Front half.

A-arm, strut, or stock type.

Back half.

Stock type, ladder bar, or four link.

Updates.


Bring your existing chassis up to today's standards.

Exhaust headers.


Custom built, stainless steel or mild steel.

Suspension systems.


Front and rear, custom fabricated in-house.

Custom rear-axle housings & components.


Stock type or sheet metal housings available.

Wiring & Plumbing.

We can custom wire your whole car, efficiently and neatly.

Interiors.

Custom steel, aluminum, or carbon fiber. Carpeting upon request.

Compliance experts. NHRA and IHRA are from time to time changing their standards and SFI specifications.
Call us to see if your chassis will meet these specs and how we can help.
Our Guarantee:

All roll cages and complete cars guaranteed to certify with both NHRA and IHRA.

Pick up and delivery.

(Available in some areas, call for details.)

Setups.

We can set up your car for the track using our computerized scales and special techniques.

FREE on-track tuning and service after the sale!
Some of the hardest hooking cars in New England use our components and technology!